Point Lonsdale Pier, Victoria. Inspiring creativity for writing
Dad Kept Bees
By Graham Andrews
When beekeeping became an important part of their life, the family wasn't prepared for the surprises in store for them, sometimes embarrassing, mostly humorous, but always fun, especially for the little boy whose job it was to follow his dad around the countryside taking the bees to different locations, following the honey flow, and meeting the characters from the Australian bush.
Life on their own new property became a joy to them all, especially when the boy wandered off to meet other children and explore the history of the area.
This book is suitable for readers in primary school.
To read a sample chapter of this book, please click here.
The print book retails for $19.95 plus postage.
This book is available as an e-book from the Amazon Kindle store for $2.99.
Print copies of this book are available from:
Our printer's Spotlight page where you can purchase all Graham's books. Alternatively, you can order from your favourite online bookstore.
Click on any of the icons below to get details of other books.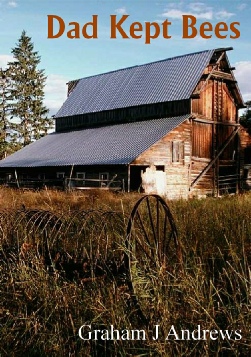 Dad Kept Bees
ISBN 978-0-9924642-0-2
110 pages. AU$19.95 plus postage