The scene is of Mount Dromedary across Horseshoe Bay, Bermagui, on the New South Wales South Coast
In Your New Image
Using visualisation to guide you through the changes you want to achieve in your own life
By Graham Andrews
This book is about visualisation, or creative imagery.
Develop the self-confidence to increase your levels of achievement in a wide range of activities and remove obstacles to reaching those goals. Visualisation can help us believe in ourselves - the path to many great personal achievements.
Many people want to learn a new skill or improve their sports ability. They would like to change the way they see themselves, or how they believe others perceive them. Perhaps they want to feel more confident at work, or in social situations. In Your New Image will guide you through the changes you want to achieve in your own life.
To purchase your copy of

In Your New Image
The book retails for $29.95 plus postage. Go to the publisher's website here.
For more information about this book … Click here
To read the first chapter, please click here.
This book is available as an e-book from the Amazon Kindle store for $4.99
Print copies of this book are available from:
Click on any of the icons below to get more details of that book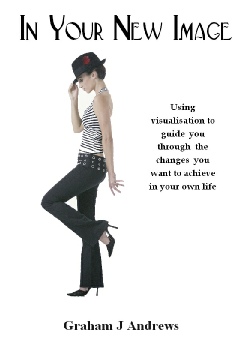 In Your New Image
ISBN 978-0-9875092-8-4
197 pages. AU$29.95 plus postage