Point Lonsdale Pier, Victoria. Inspiring creativity for writing
You're On Air
A guide to writing, preparing and presenting programs on community radio
By Graham Andrews
You're On Air shows readers how to write scripts for radio - radio news, radio documentaries, radio drama, present programs on community radio, and discusses the legal aspects of copyright, slander, and much more.
You're On Air emphasises working for community radio, because there are so many more opportunities in this field for creativity than other streams of radio. It's good experience. Community radio really is for everyone. The skills learned in community radio are readily adapted to mainstream radio.
What's radio all about then? It's about entertaining people. It's about educating them. It's about amusing them. It's a process of enriching the lives of others. At the same time, it should be a process whereby you are fulfilled by being creative - writing, producing and presenting programs that are fresh and original.
This title was published in 1995 by Currency Press, but this edition has been completely revised and updated.
To purchase your copy of

You're On Air
The book retails for $29.95 plus postage.
To read a sample chapter of this book, please click here.
This book is available as an e-book from the Amazon Kindle store for $4.99
Print copies are available from:
Our printer's Spotlight page where you can purchase all Graham's books. Alternatively, you can order from your favourite online bookstore.
Click on any of the icons below to get details of other books.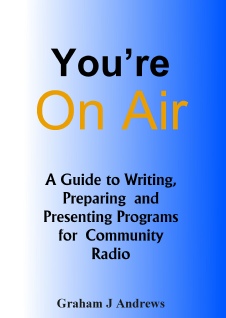 You're On Air - print book
ISBN 978-0-9875092-7-7
151 pages. AU$29.95 plus postage